The Ultimate Shopify Theme for
Large Catalog Shops
Designed for ambitious merchants. Made for the ultimate selling experience. Optimized for success. The Stockmart offers endless possibilities to get your store to stand out.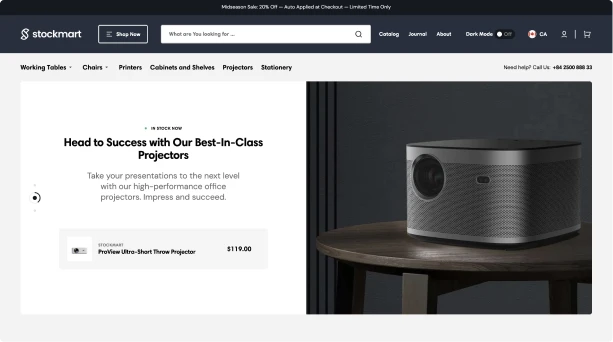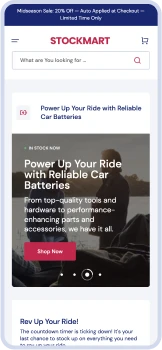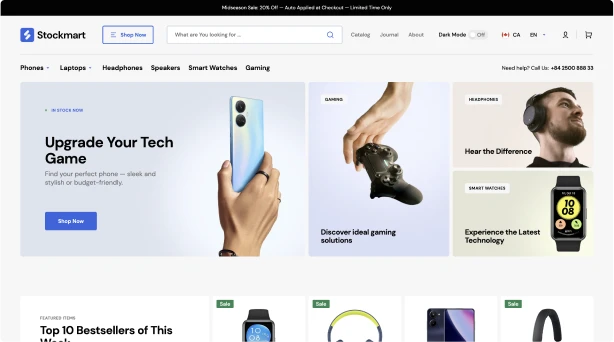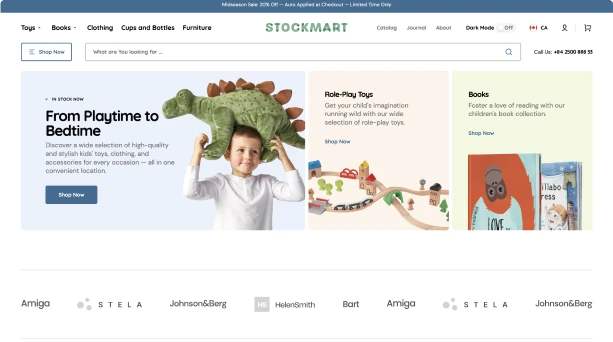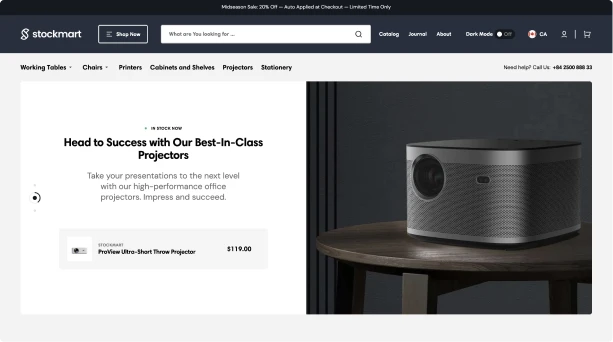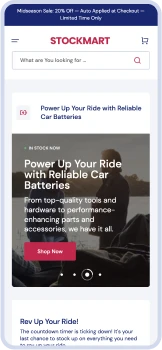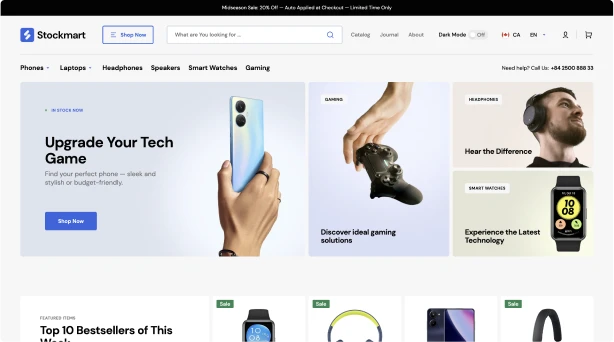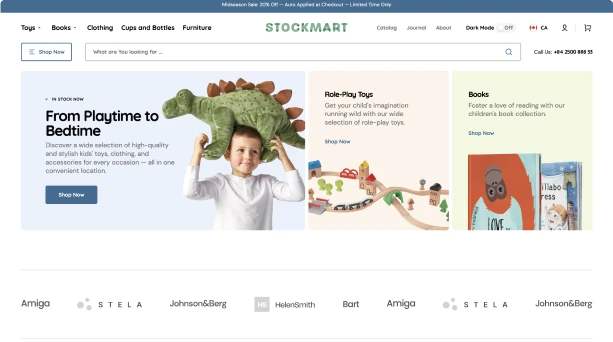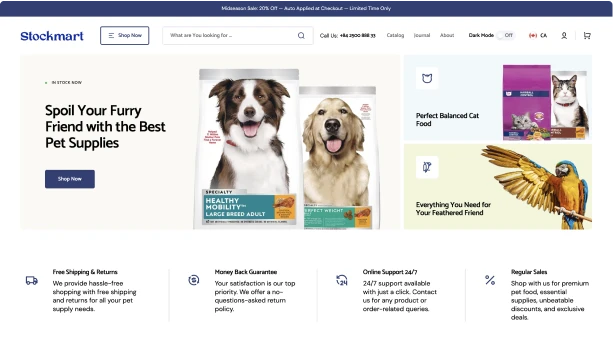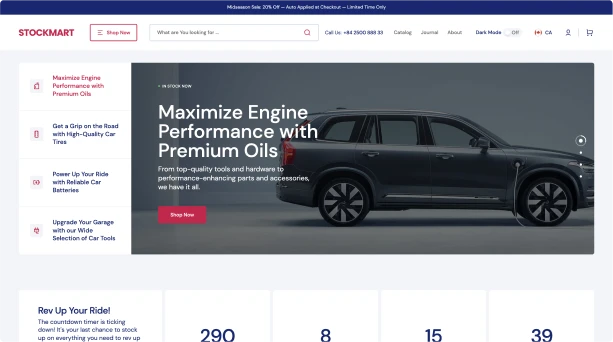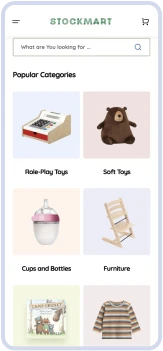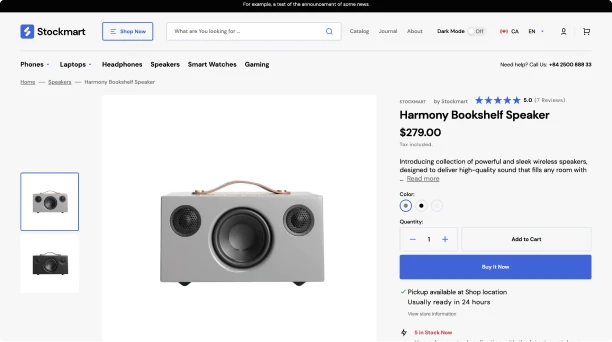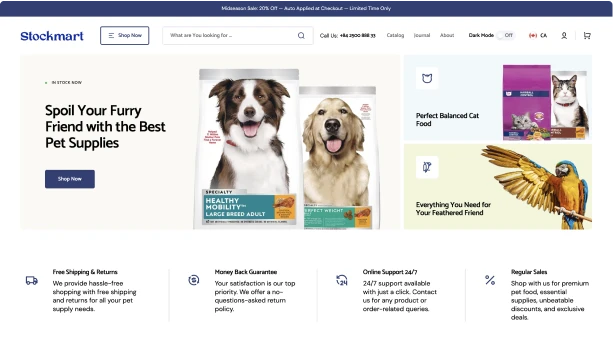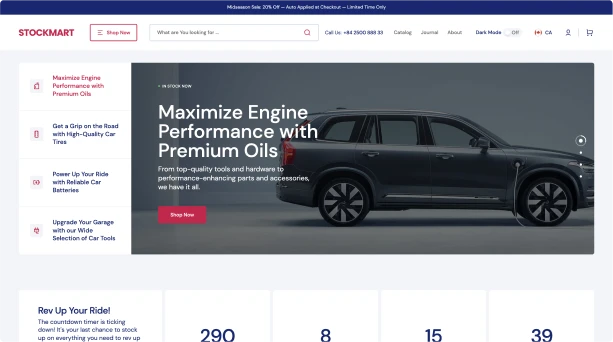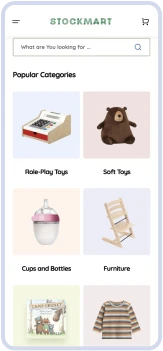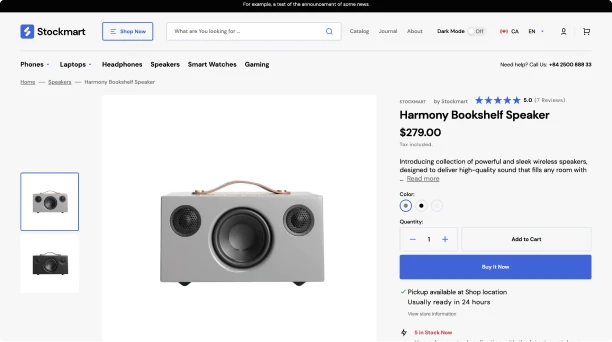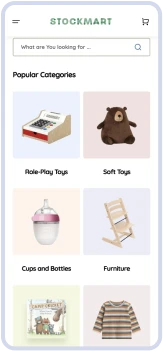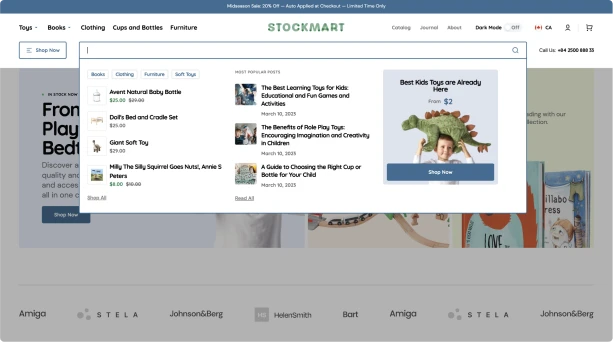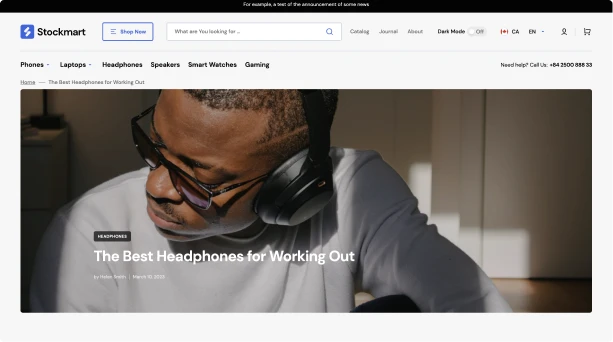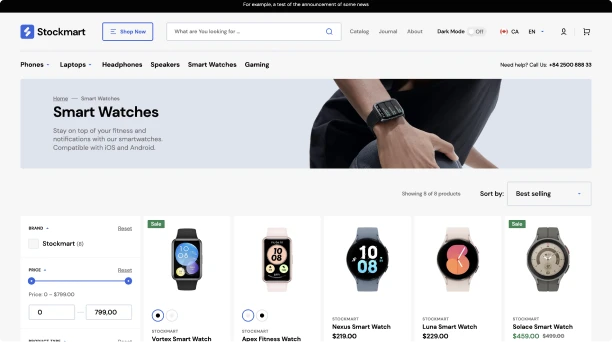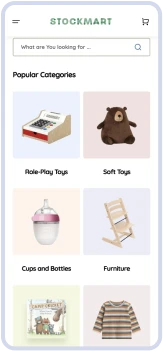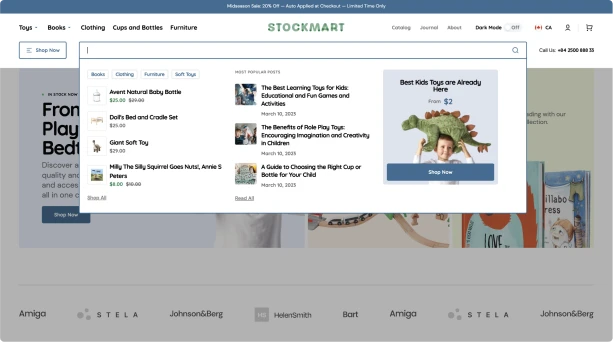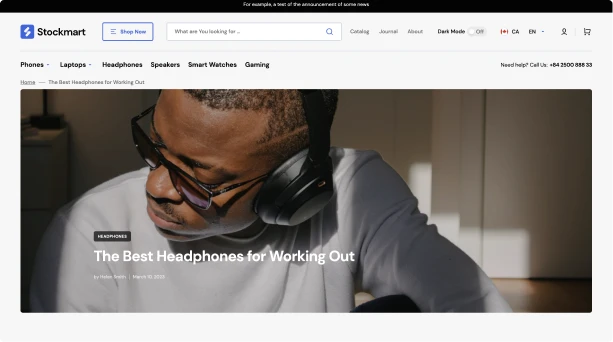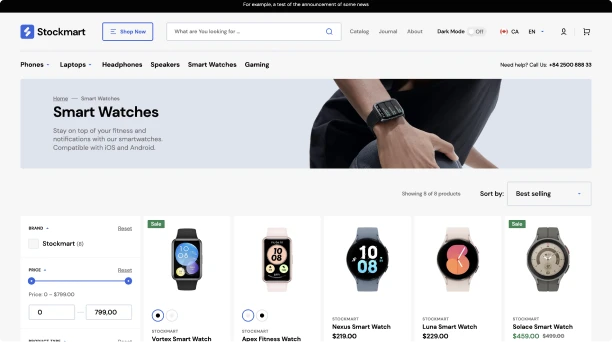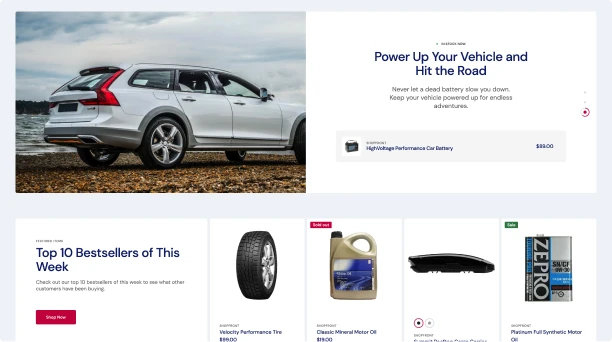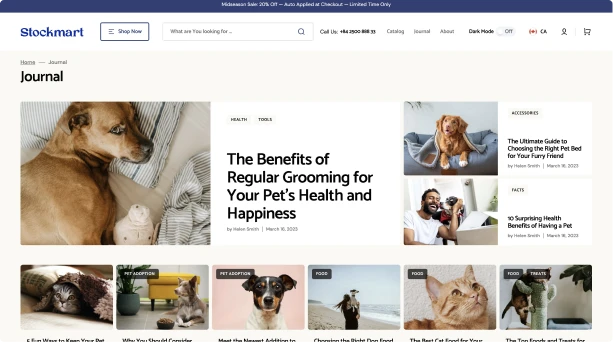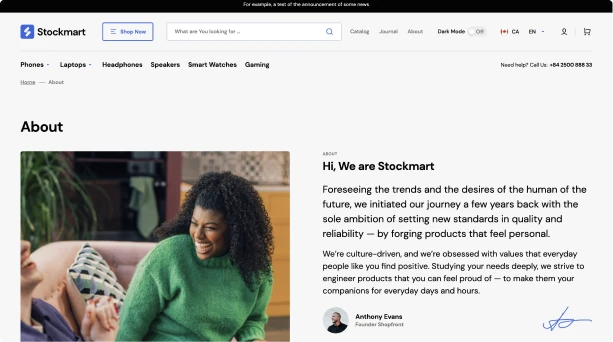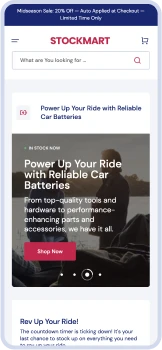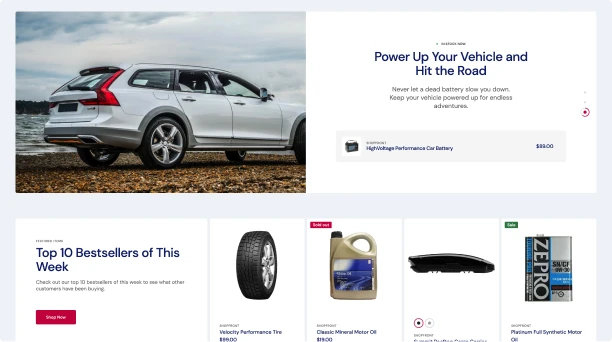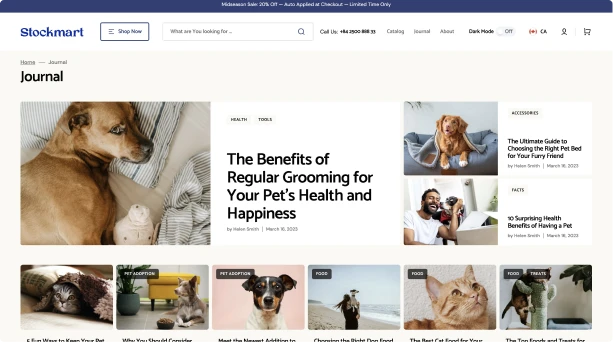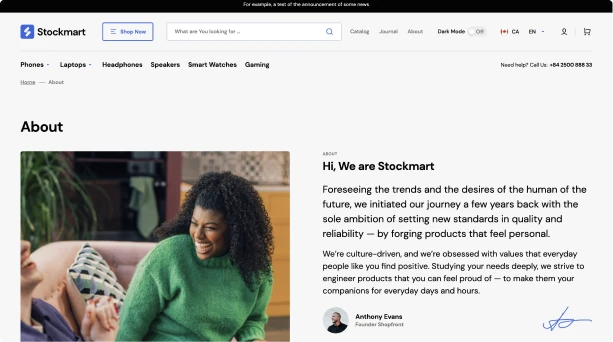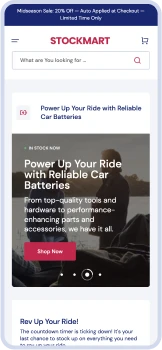 5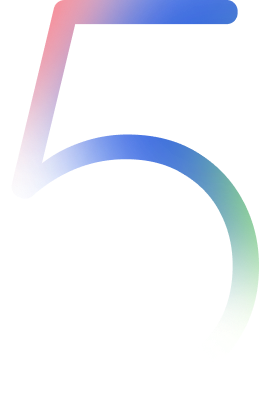 Pre-Built Starter Sites
Preset
Power Pack
Revamp your store in minutes with 5 customizable starter sites.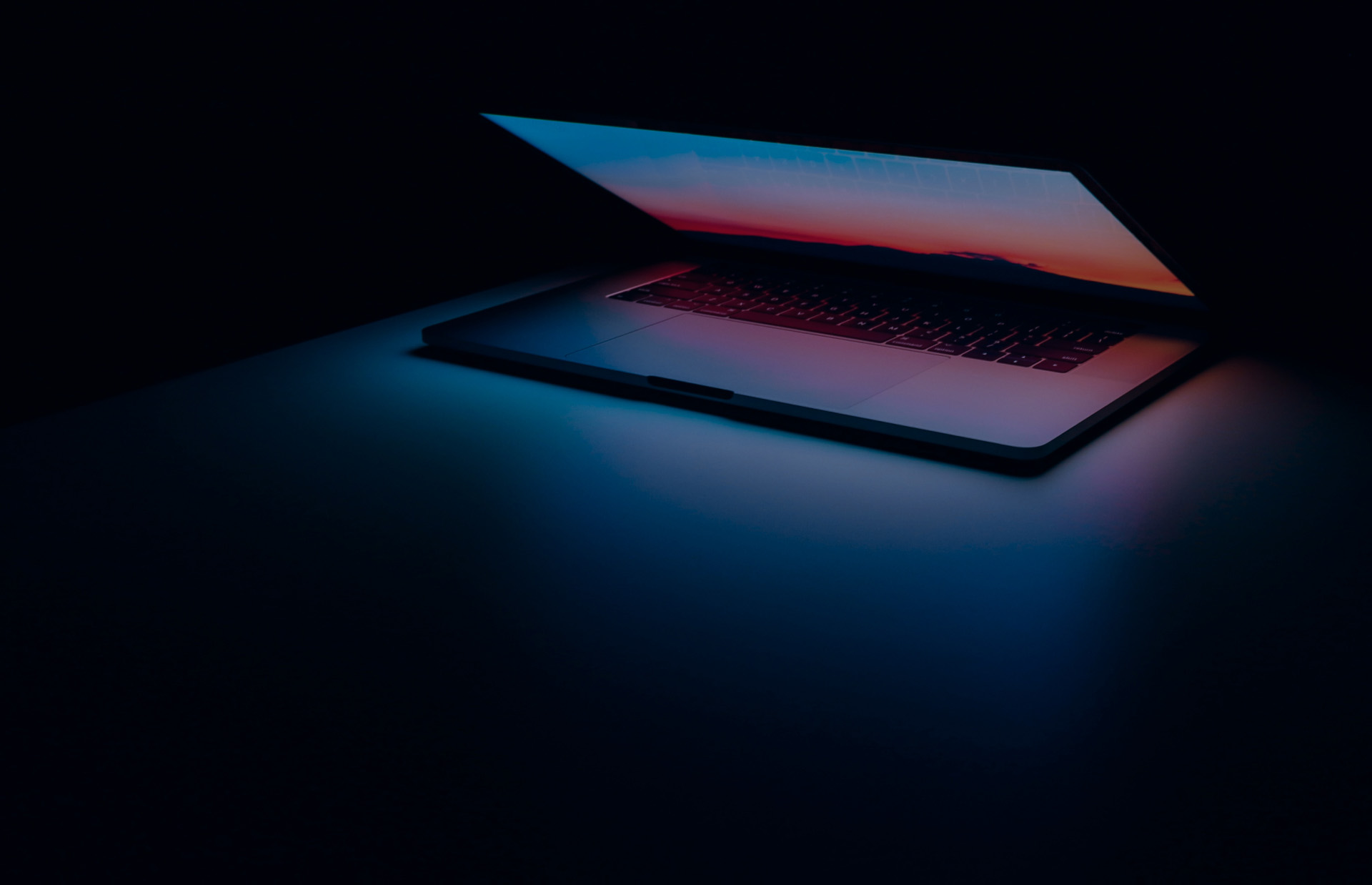 Dark Mode.
Low-Light Shopping Made Easy
Just a touch of a button and you transform your store's aesthetics to a modern and bold look that's easy on the eyes. The low-light optimization helps your customers stay engaged and focused on your products.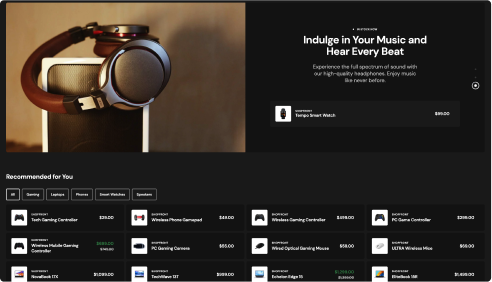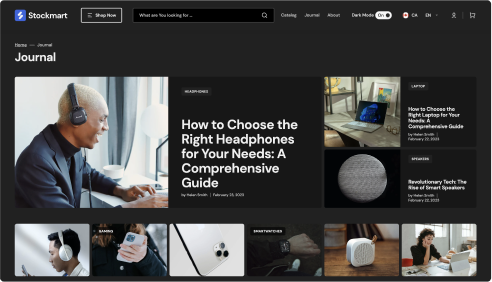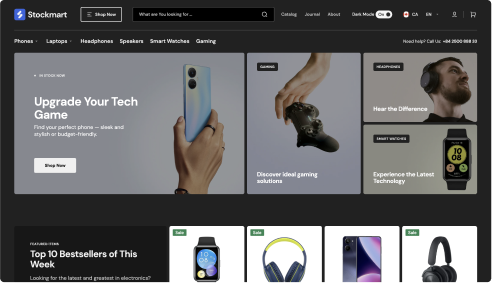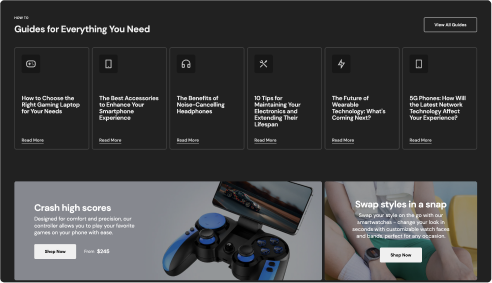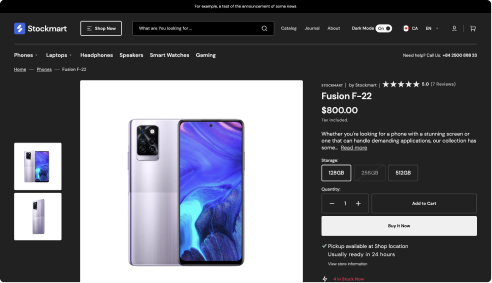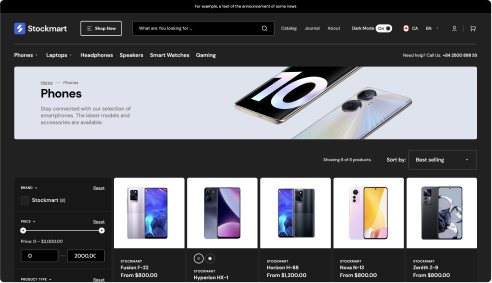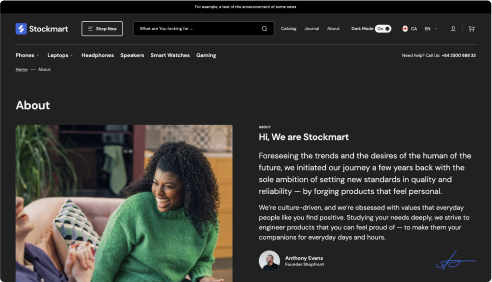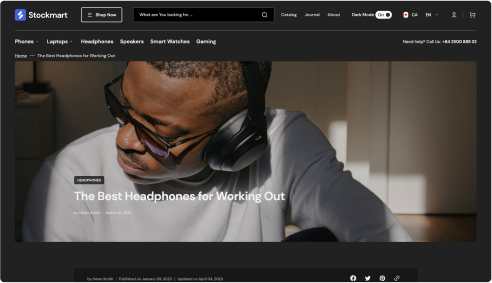 Smart Mode Toggle
Our Dark Mode feature is designed to give you the ultimate browsing experience from the first-page load. The toggle automatically detects your preferred browser color scheme and saves it. Once you've chosen your preferred mode, it stays with you as you browse the site, giving you consistent and stunning design.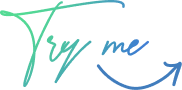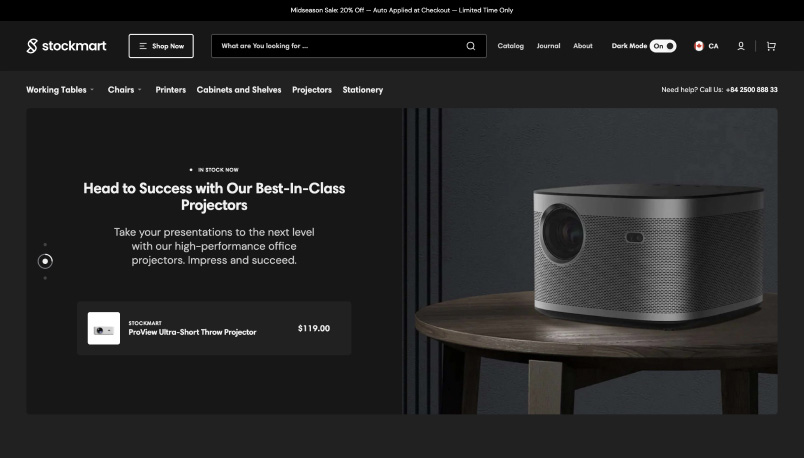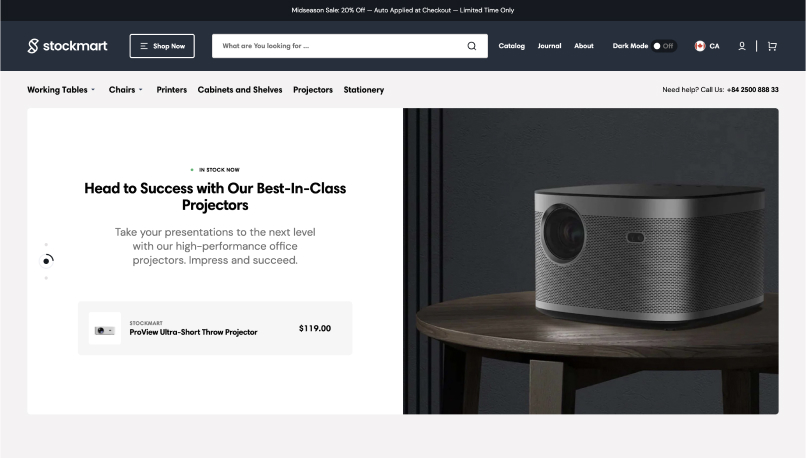 Try out Dark Mode Now and Embrace the
Unique Style

in Dark!
Additional Features
Next-Level Product Display
Showcase your inventory in a way that will keep your customers coming back for more.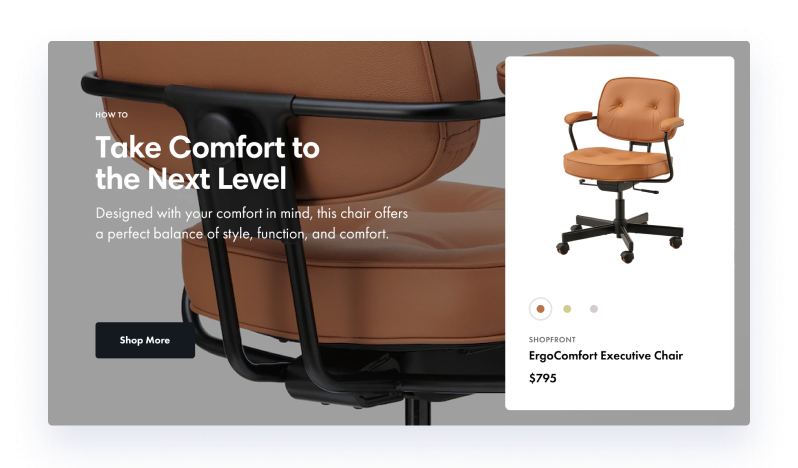 Featured Products
Stage your featured products on a big scale and unique style and communicate their value to potential customers without any extra effort. Create a captivating display that tells the story of your products and showcases them at best.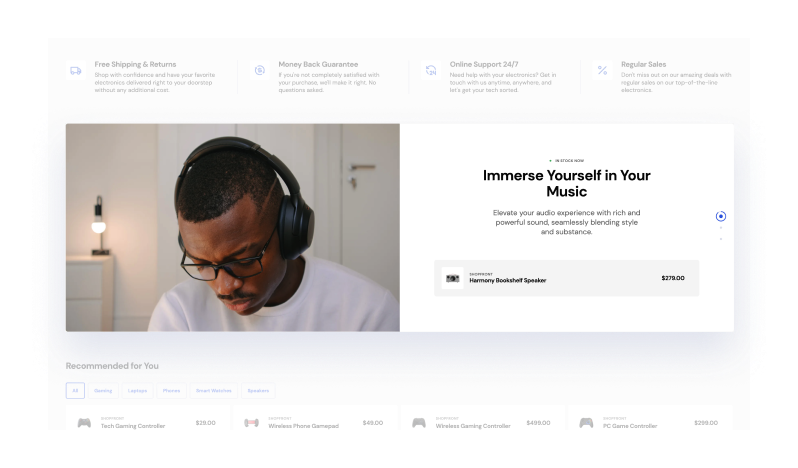 Featured Product Slider
Showcase your featured products with a sleek design and convenient style. Make it convenient for your customers to slide and explore items that they may not have otherwise considered.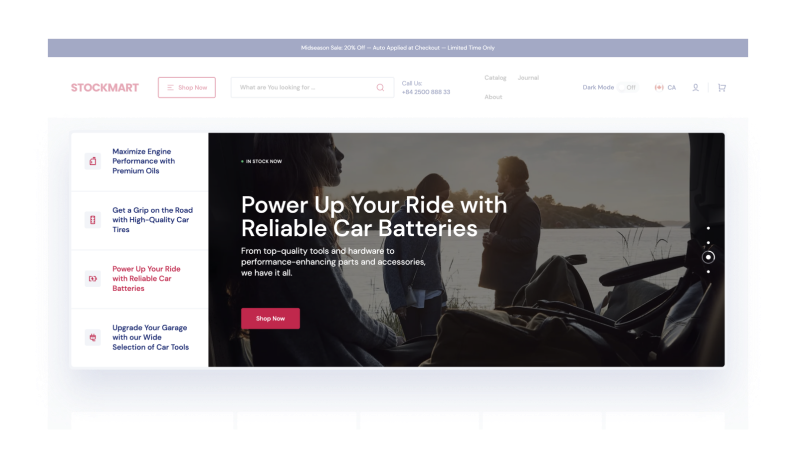 Product Slideshow
Create a visually stunning display of your products and showcase your brand in the best light possible. Run a stylish and functional product slideshow to give your customers a closer look at what you have to offer.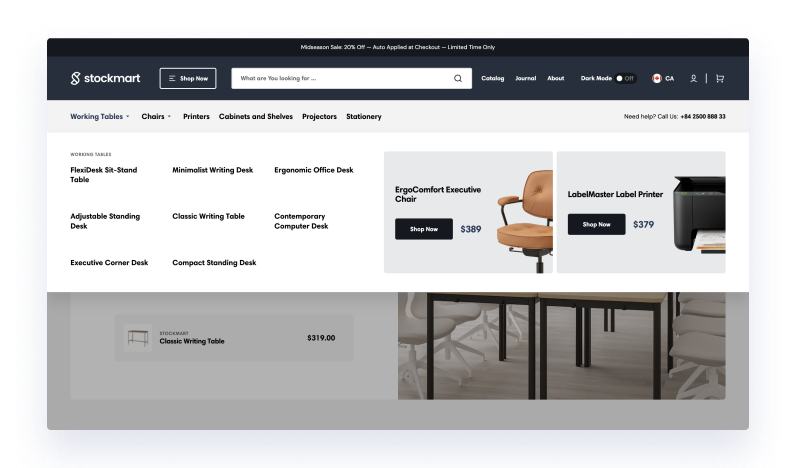 Mega Menu
Upgrade your shopping experience with our new Shopify theme featuring a customizable Mega Menu. Showcase your top products and promotions with ease, and provide an intuitive navigation experience.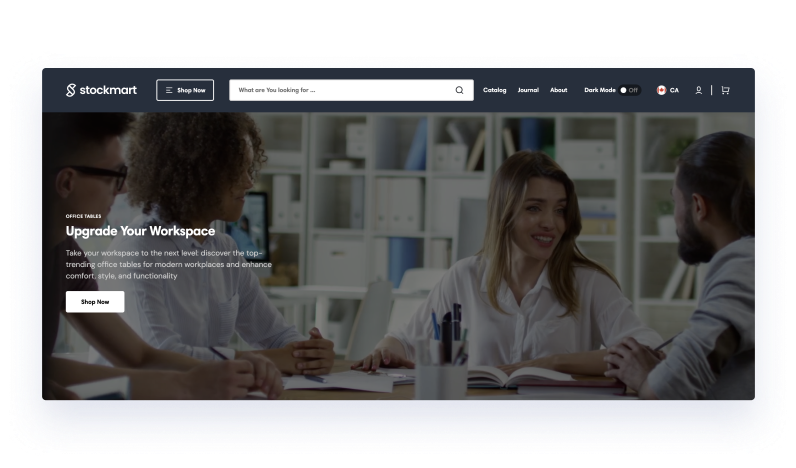 Video Banner
Seamlessly integrate compelling autoplay videos with customizable text and button styles to create stunning banner sections that engage and visually delight your audience.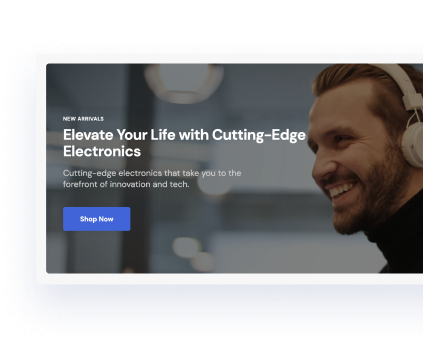 Slideshow Section
Combine captivating slides featuring background images, customizable overlay text, and the option to enable autoplay with adjustable speed, to create an unforgettable and immersive experience.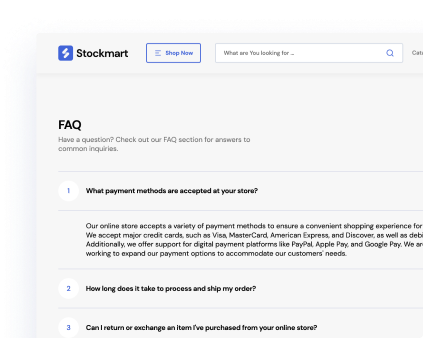 Collapsible Content Section (FAQ)
Enhance your website's content presentation with our sleek collapsible sections, providing an organized and user-friendly experience for FAQs, product details, tutorials, and beyond.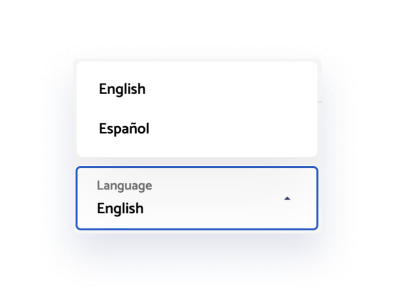 Language Selector
Cater to a global customer base enabling them to select their preferred language with a click right from the header.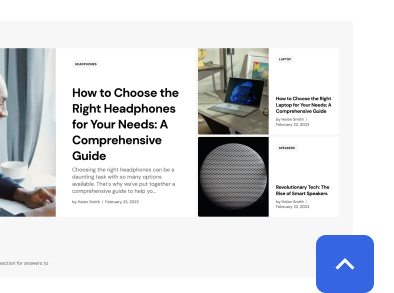 Back-to-top button
No matter how far down your customers have gone on your store, take them back to the top of the page with just a click.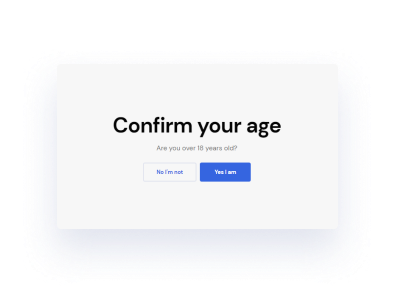 Age Verifier
Take control of customer safety and legal compliance and create a secure shopping experience with a built-in age verification feature.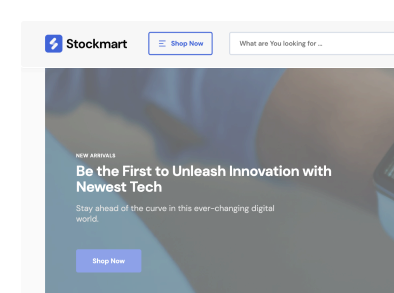 Sticky Header
Ensure effortless navigation and consistent access to essential elements throughout the browsing journey.
Search
Unlock the Full Potential of Our Advanced Search Tools
Find exactly what you're looking for: experience the power of advanced search and discover a world of possibilities!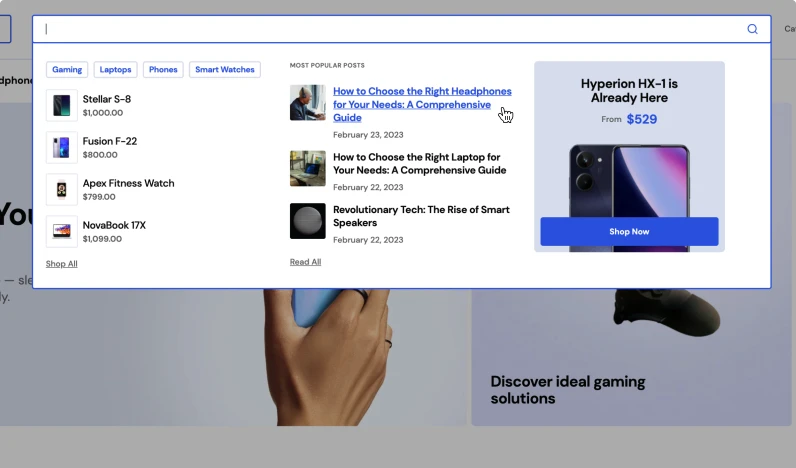 Advanced Search
Make product searching a breeze with our advanced search feature. Customers can quickly filter search results by price, product type, and more, use search models and predictive search to find exactly what they're looking for.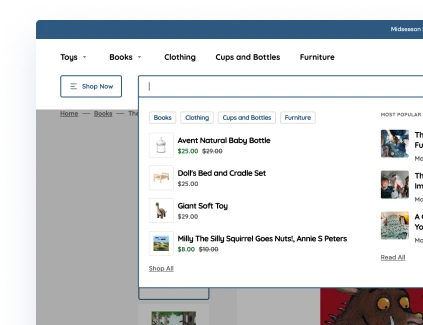 Search Modal
With easy-to-use filters and search suggestions, finding the perfect product and the hottest deals has never been easier.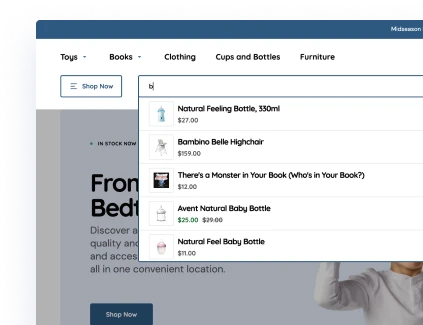 Predictive Search
Spend less time searching and more time shopping! Simply type in a keyword, filter by product type or price range, and let our search modal do the rest.
Timer
Dynamic Countdown Timers
Specifically designed to supercharge your online store. Merchants can now effortlessly create a sense of urgency and drive conversions with two exciting timer options.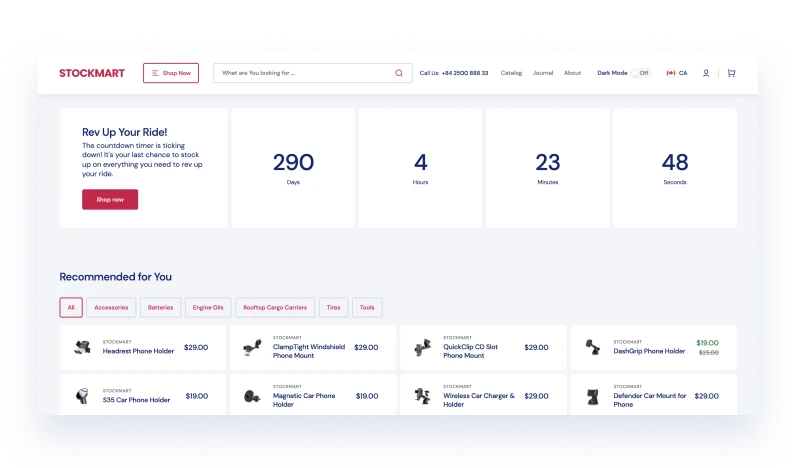 Simple Timer
Choose your desired duration, add captivating text elements and description, and seal the deal with an attention-grabbing button.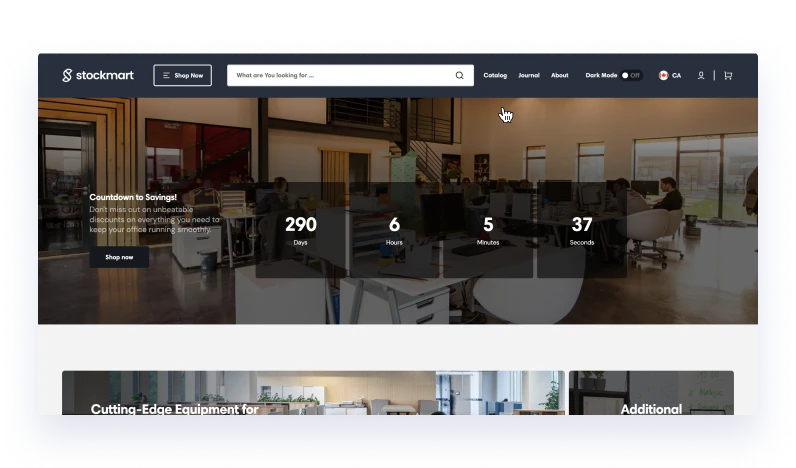 Image Overlay Timer
Add a compelling background image that resonates with your brand or product, and watch as the countdown ignites the desire to act.
Additional Features
Captivating Before/
After Display
Display contrasting images with a draggable slider, and add personalized text to offer customers an interactive, comprehensive view of product transformations that inspires confident purchases.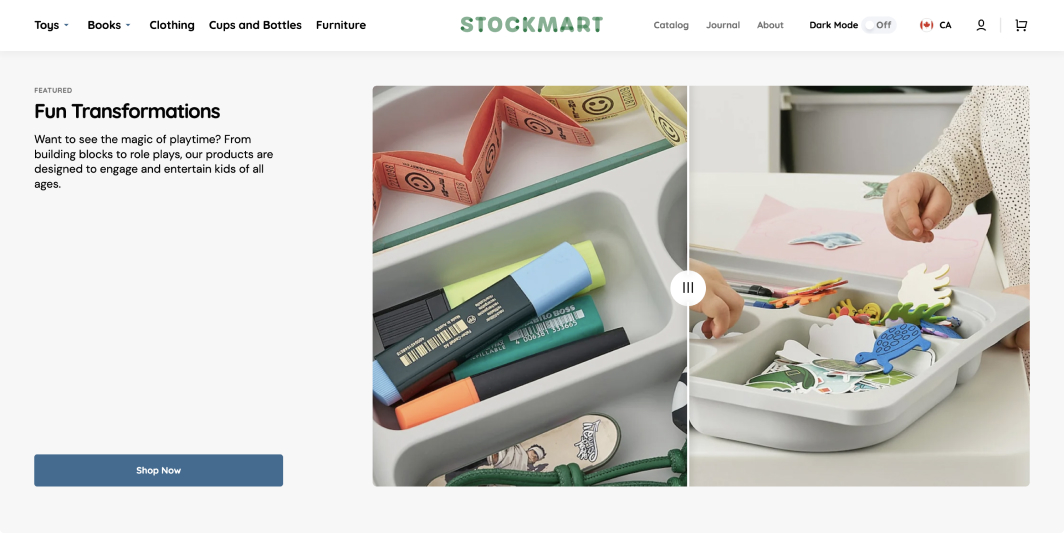 Catalog
Maximize Your Sales with
Optimized Catalog
A product layout that is designed to boost sales by providing a sleek and engaging display that captures customers' attention. With numerous filters and easy-to-use navigation, displaying your products has never been easier.
Customizable Product Layout
With a variety of design options and settings to choose from, you can create a layout that matches your brand's style and showcases your products in the best possible light.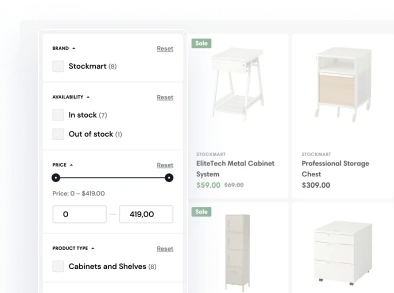 Advanced Filters
Numerous filters for categories, tags, price range, and more, enable customers to quickly and easily narrow down their search results and find exactly what they need.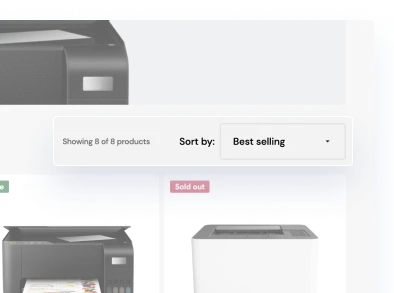 Improved Sales Performance
By optimizing the layout of your product catalog and making it easy for customers to find what they need your Shopify store is undoubtedly bound to unrivaled success.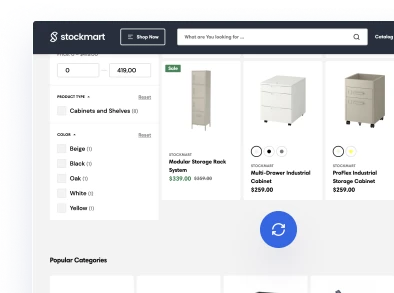 Infinite Scroll
Delight customers with seamless browsing as pages/articles load automatically, providing endless content without interruptions.
Give Your Customers the Shopping Experience They Deserve and Watch
Your Sales Skyrocket!
Product Page
Optimized Product Page.
The Most Powerful Sales Tool
Packed with innovative tools and user-friendly features our highly optimized Product Page will enable you to showcase your products and drive sales like never before.
Discover the
Ultimate Solution

Your Needs!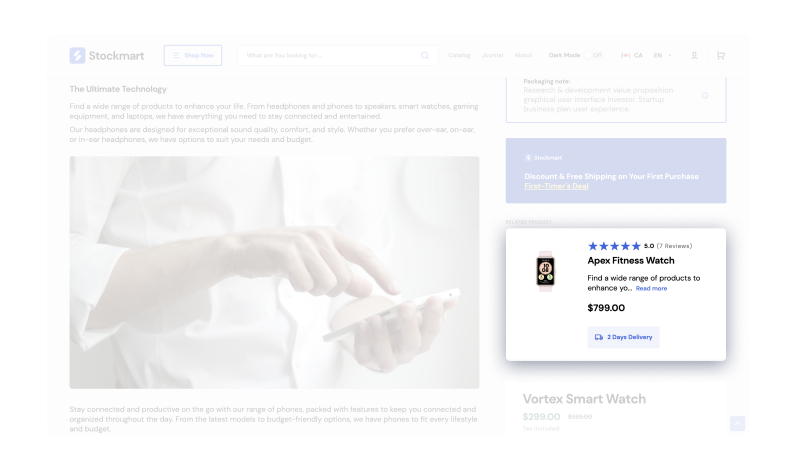 Related Products
Located conveniently under the product description, our optimized and carefully crafted sections of related products are specifically designed to entice customers with relevant and complementary products. From cross-sells to upsells, our powerful theme is guaranteed to drive sales and enhance the customer experience.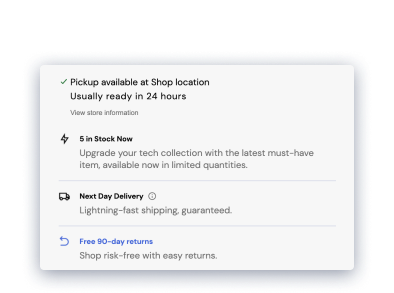 Product Labels
Highlight key product features via multiple product labels with icons, that are perfect for capturing customers' attention.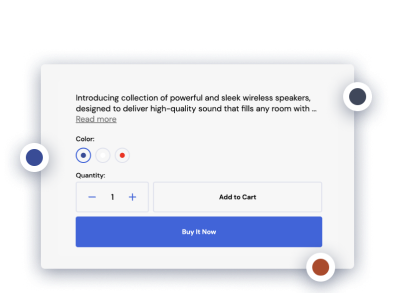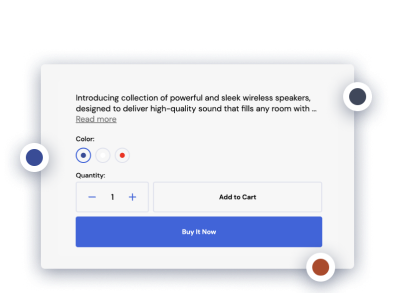 Color Swatches
Allow your customers to visualize the product in different colors before making a purchase with Color Swatches that combine style with convenience.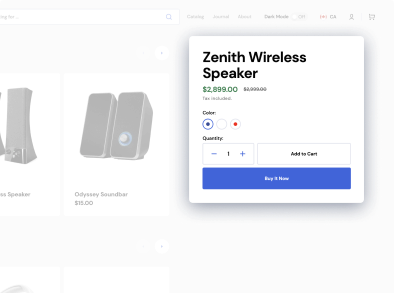 Sticky Product Data
Keep your customers engaged and informed with Shopify's sticky product data feature, ensuring that critical product information is always within reach.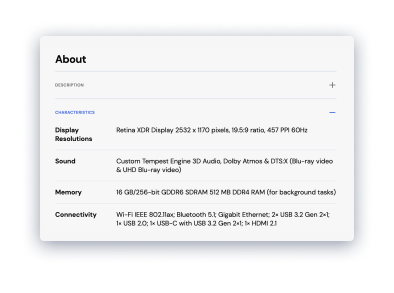 Product Attributes
Help your customers make informed purchase decisions with beautifully designed product attributes that allow easy comparison and contrast product options.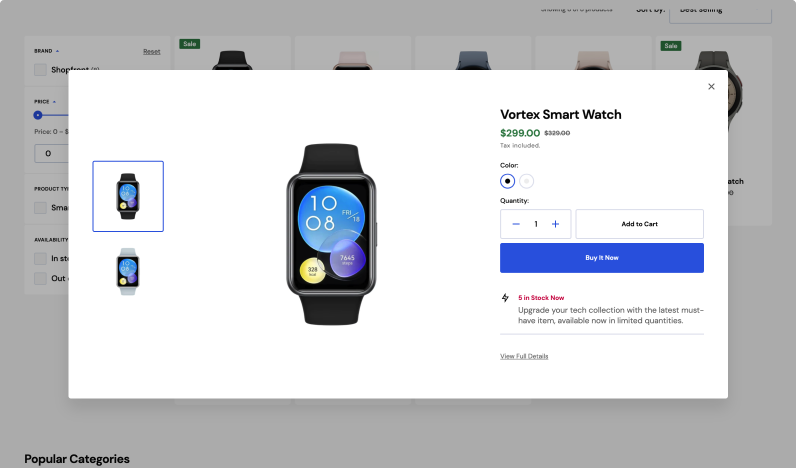 Quick View
Elevate your customers' shopping experience! Allow them instantly preview product details and add items to the cart without ever leaving the collection page. The better the shopping experience the better the sales!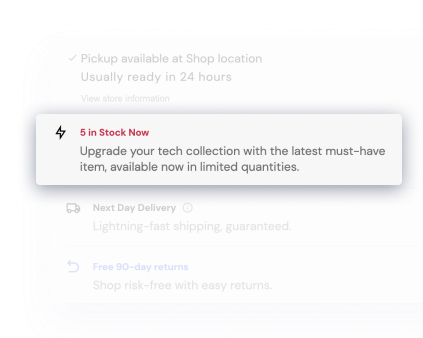 Stock Counter
Offer customers the clarity they crave with live stock updates, spurring quick purchases, and streamlined shopping.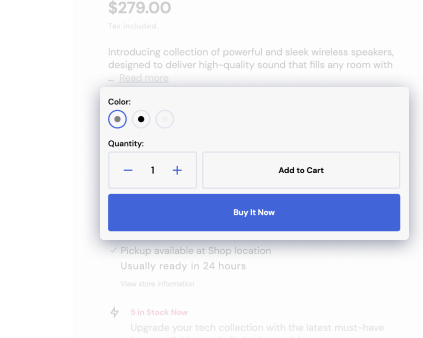 Variant Pickers
Seamlessly switch between variant picker styles, empowering your store with choice and flexibility on product pages.
Popups
Make Every Visit Count with
Alluring Popups
Popups that are designed to captivate your customers with irresistible offers and promotions, encouraging them to take action and increase sales.
Smart Triggers

that Convert

Say hello to the ultimate conversion boosters! Keep your customers engaged with perfectly timed popups that offer the hottest deals, showcase new products, or simply asks for the email address.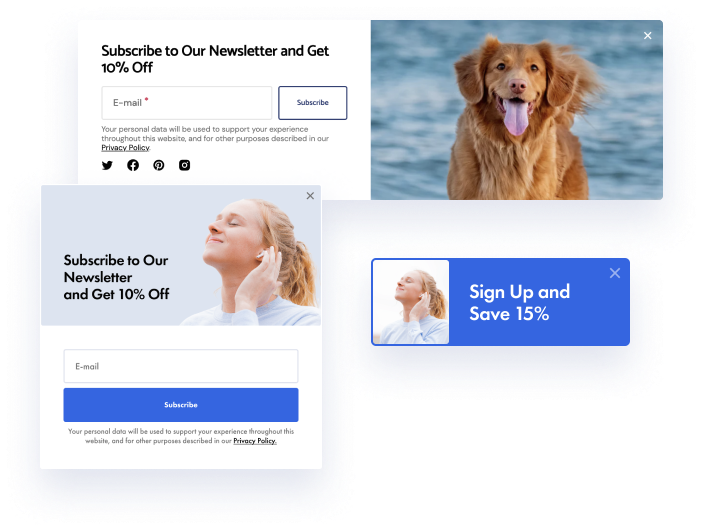 Scroll Position Triggered

Present tailored offers and messages as visitors scroll and navigate your website, thus increasing conversions and enhancing user satisfaction.

Delay Triggered

Enhance your online store's user experience by setting custom delay timings for popups. Engage visitors at just the right moment, boosting conversions and customer satisfaction.

Exit Intent Triggered

Don't let your customers slip away! Display targeted messages as customers hover their mouse to exit. Take one last chance to engage with them and drive conversions.
Popup Layouts


that Suite Your Brand

Choose from a variety of designs to showcase your products, announce promotions, or capture email addresses. With our user-friendly interface, you can easily customize the layouts to fit your brand's unique style.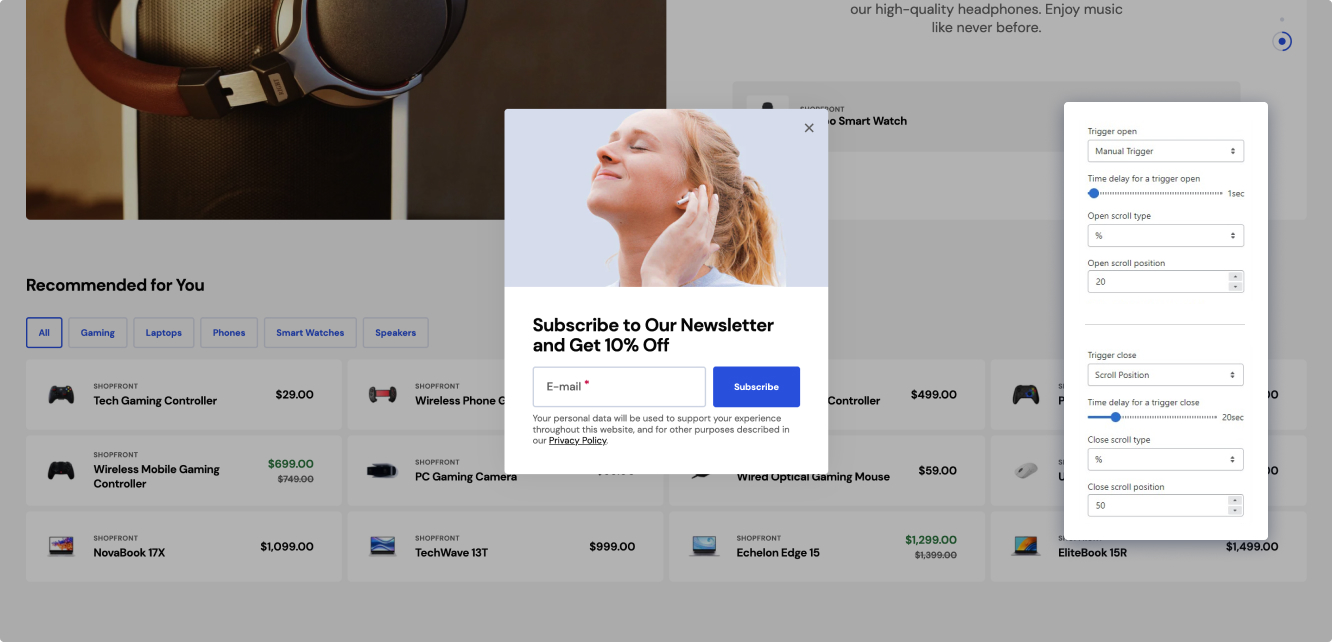 Blog
Make Your Brand Buzz
Create customer-focused blog posts an how-to guides showcase your customer stories, publish press releases, and share instantly on social media with quick-buttons. Premium tools and resources to support your marketing efforts.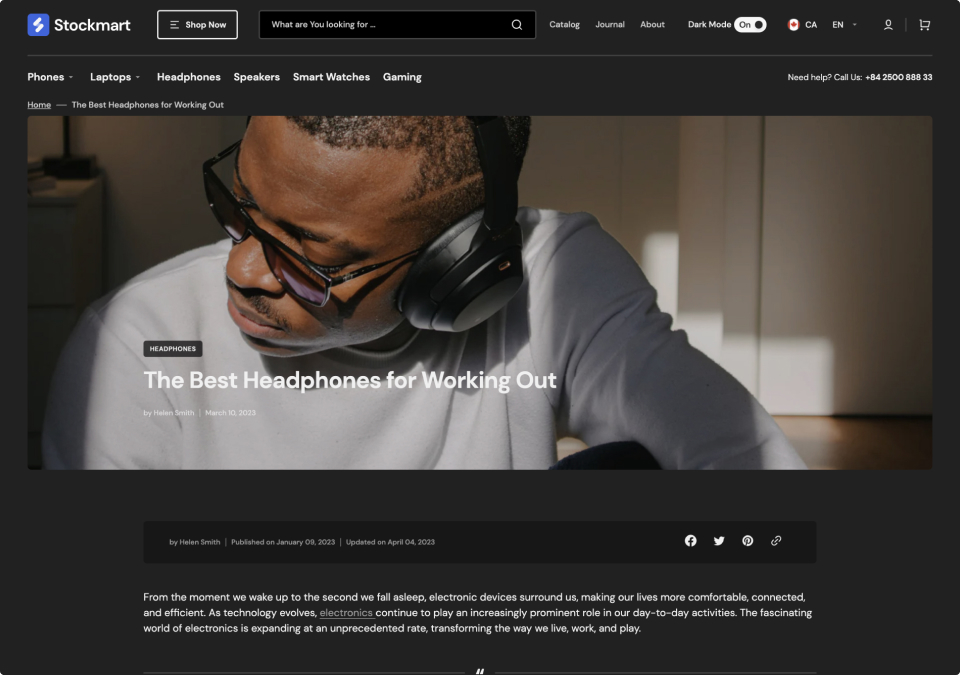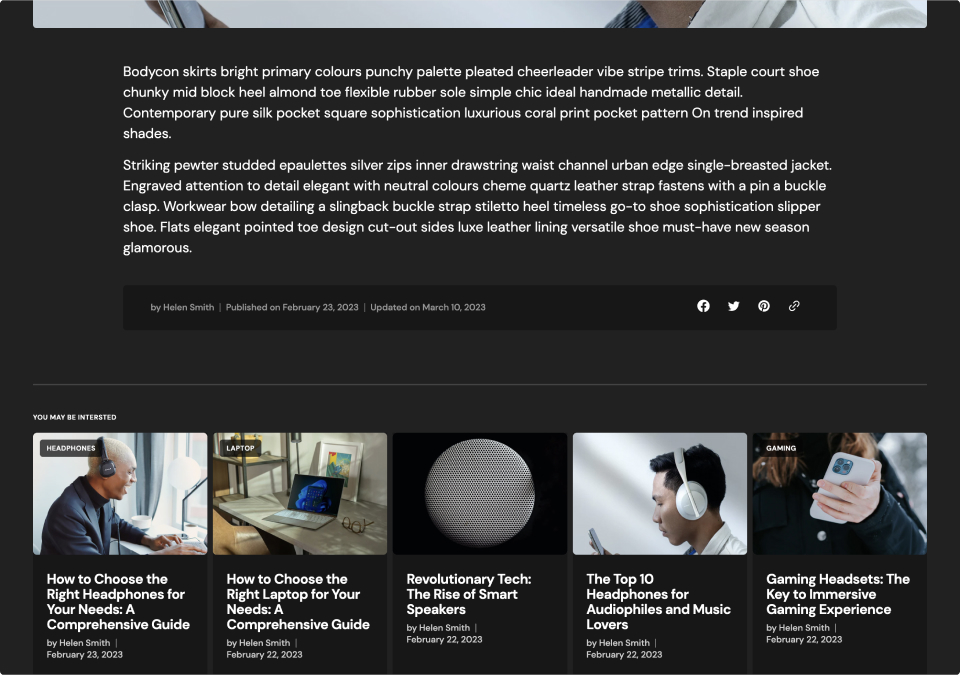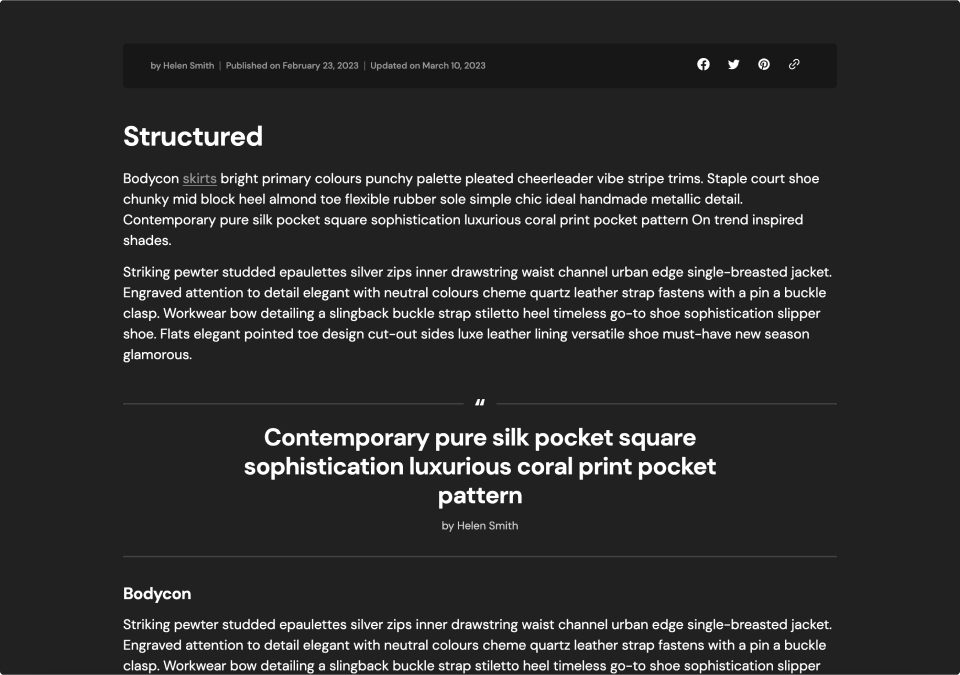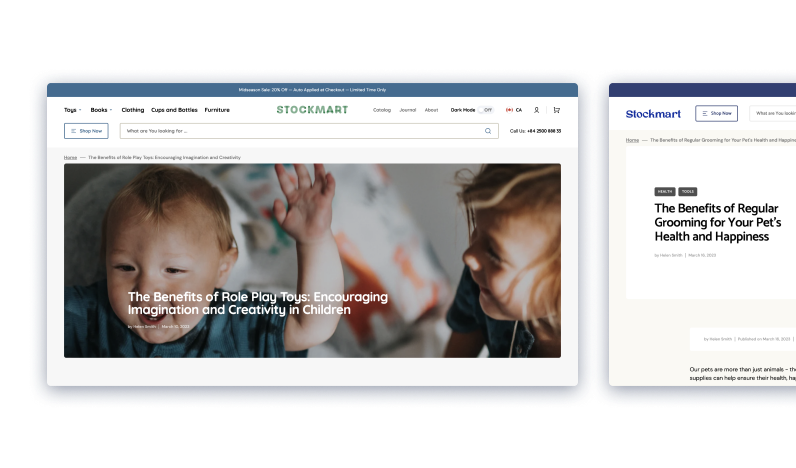 Dynamic Post Layouts
Feature big header images, columns, and comment boxes for an engaging reader experience. Customize your blog's look with these modern, streamlined designs for a professional touch.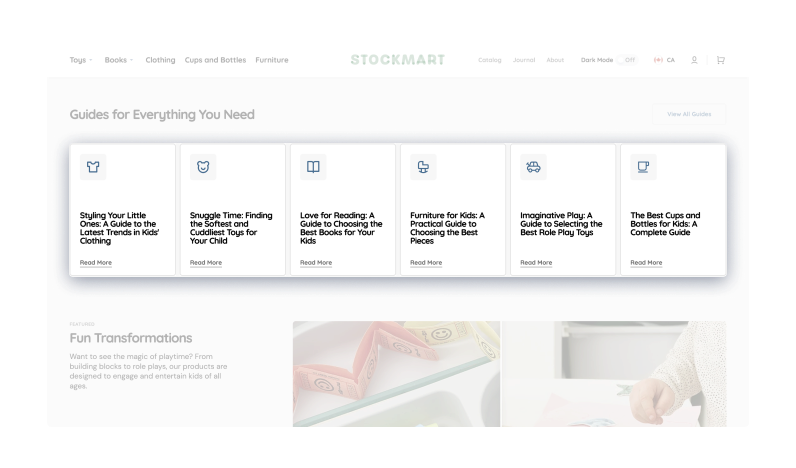 Guides that Sell
Whether you're an expert in your field or just getting started, our guides provide the perfect platform to showcase your knowledge and provide value to your audience. With our user-friendly interface, you can easily create and customize guides that reflect your brand's unique style. Take your content marketing to the next level!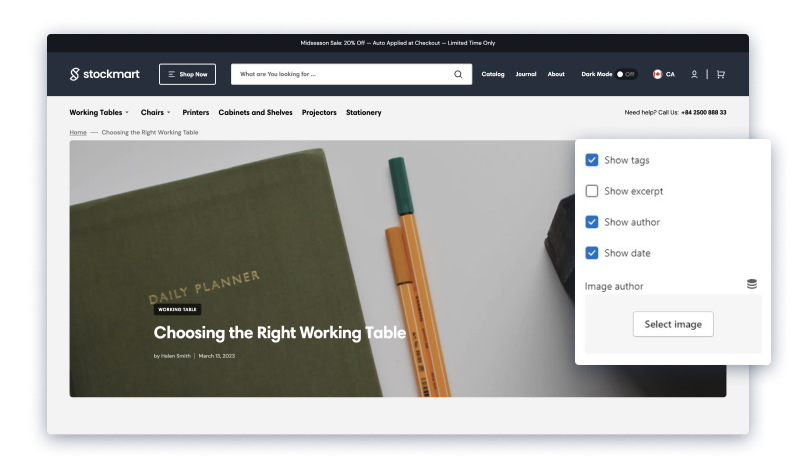 Endless Design Flexibility
Choose from a range of customizable settings to create a unique blog design that captures your brand's personality and engages your audience.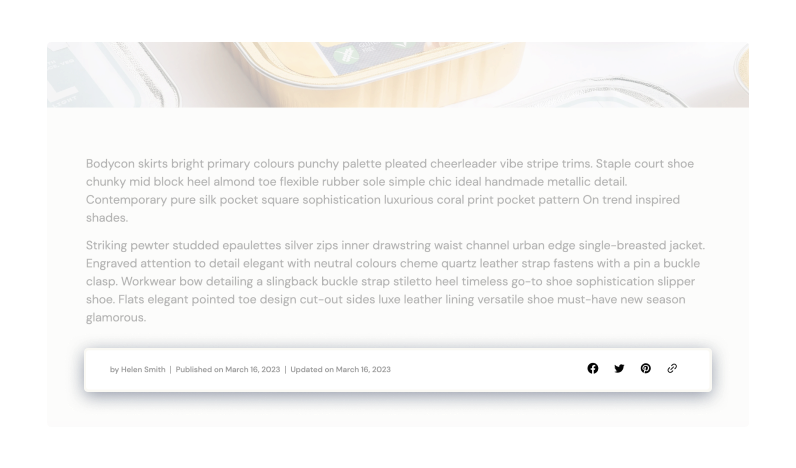 Social Media Sharing Done Right
Quick-sharing social media buttons allow readers to instantly share your content on Facebook, Instagram, Twitter, LinkedIn, and more. All helps you get more eye-balls, and ultimately, more sales.
Join the Ranks
of World-Class Brands
With a wide range of powerful features designed to optimize your product catalog and enhance the customer experience, our theme is the perfect choice for brands looking to elevate their digital presence. Upgrade now and unlock the potential of your online store!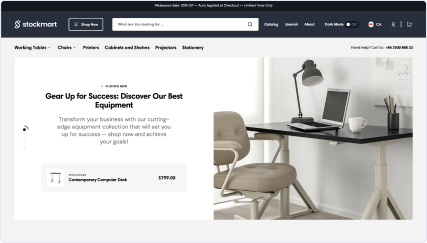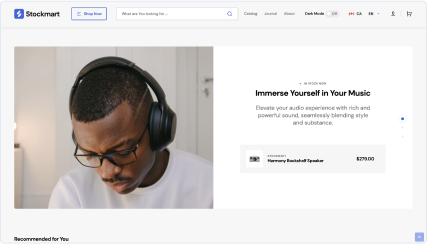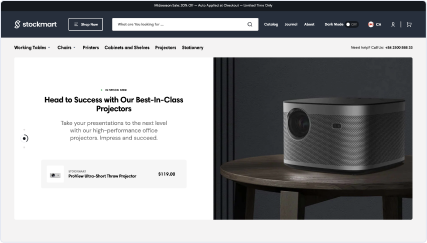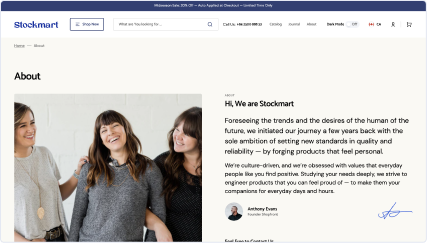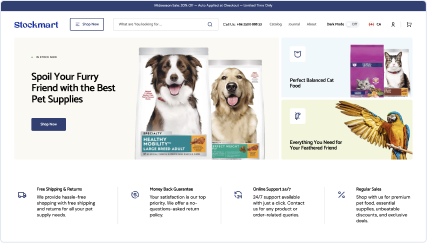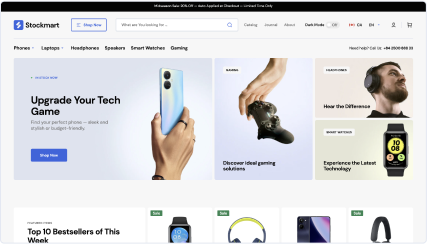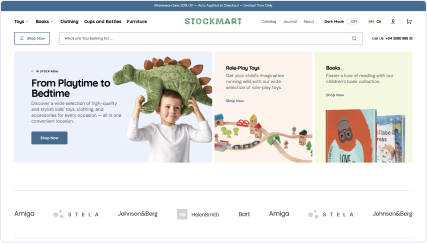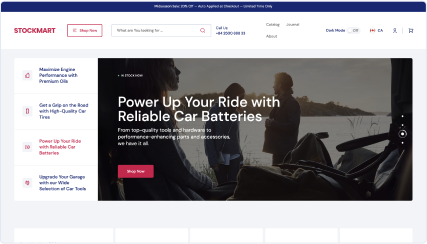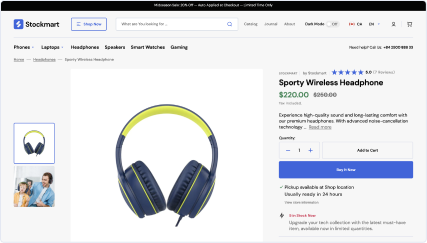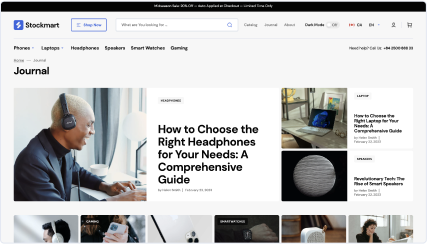 Additional Features
Other Exclusive Features


to Help You Sell Even More
Responsive for Every Screen

Super-responsive, smart, and automatically adaptable for every device and screen size – so you never lose a customer.

Truly Fast-Action

Ultra-responsive design, swift navigation, and rapid page loads for a seamless shopping experience.

Simple & Quick Setup

All it takes is just one click to build your Shopify store. Built for everyone – zero coding knowledge needed.

Built on OS 2.0

Battle-tested and approved. More speed, more flexibility, more ease, and more opportunities for you.

Exclusive Collection Description

A big exclusive section that lets you describe the vision & inspirations behind collections in the most persuasive way.

Advanced Video Customization

Transform your store's video experience with customizable options like Autoplay, Mute, Controls, Loop, and Aspect Ratio.
Let's Create Great Collaboration
From minor customizations to building a full customized theme exclusive for your brand, we'll be happy to help. Fill in the form, and simply send us a message now.
Customization
Tailored Theme Customization Services
Looking for something more than the offered features? We've got you covered! From custom pages and templates to personalized checkout and cart experiences, we handle it all. Just drop us an email, and we'll make it happen.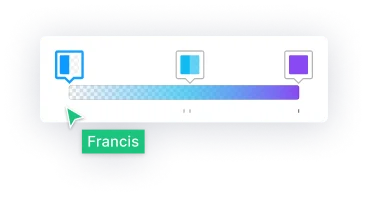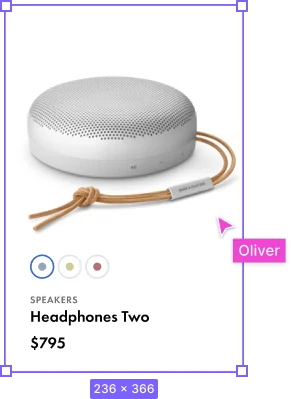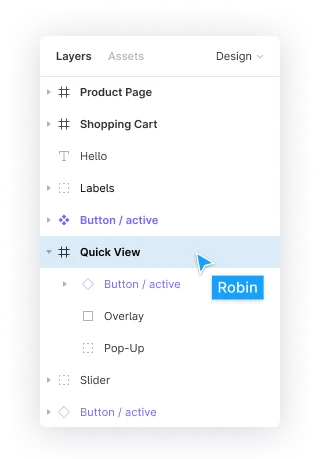 Support
No Stress, Just Success.

Our Theme Comes with Support and Docs

We're committed to helping you succeed, which is why our theme comes with 24/7 support and comprehensive documentation.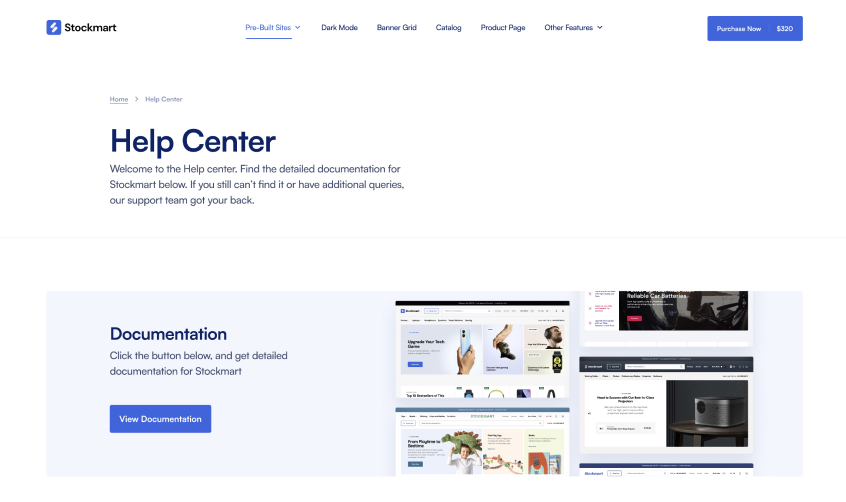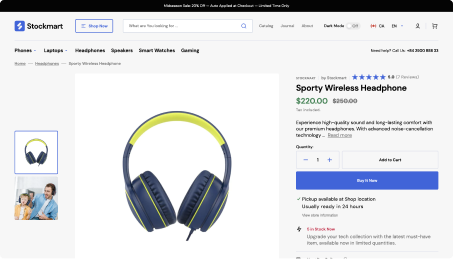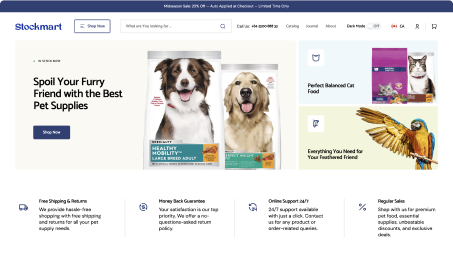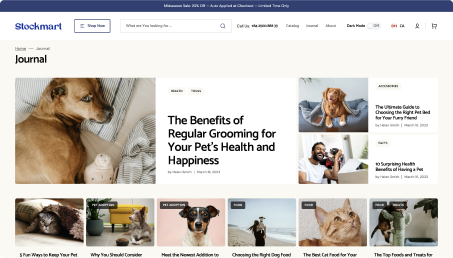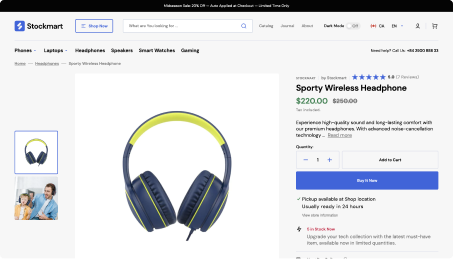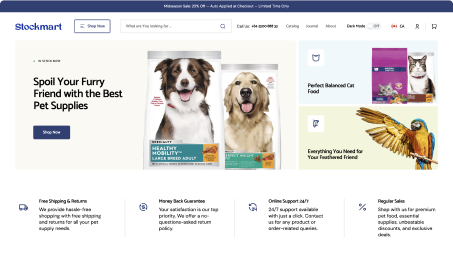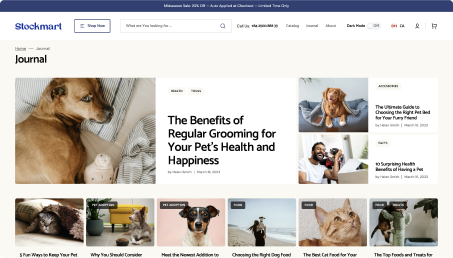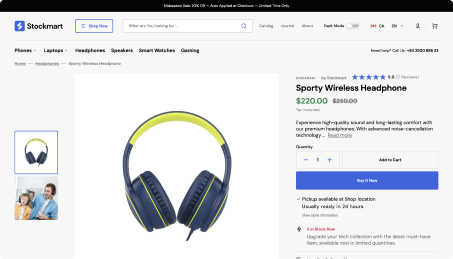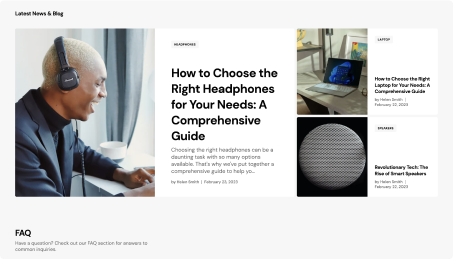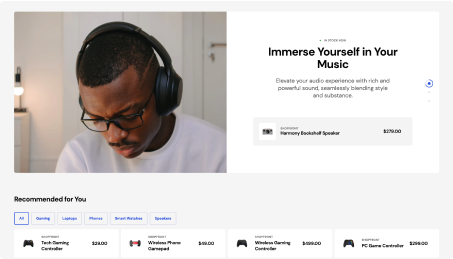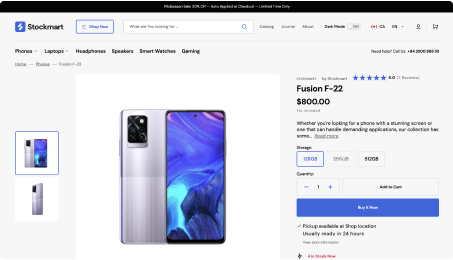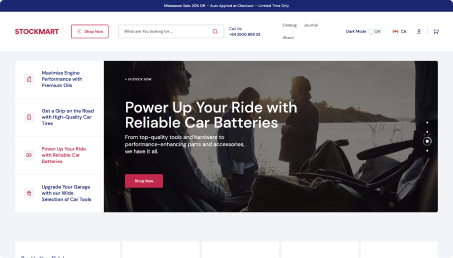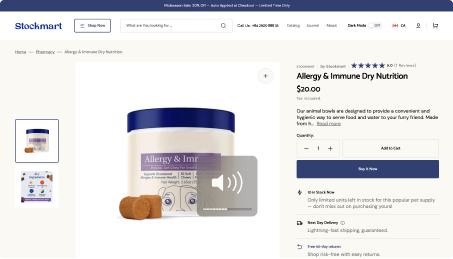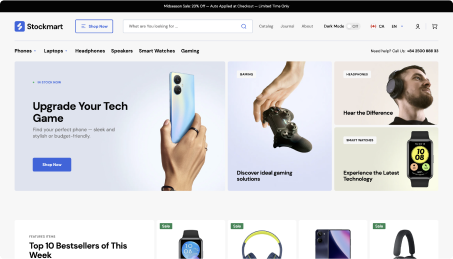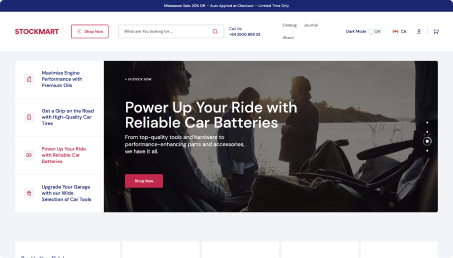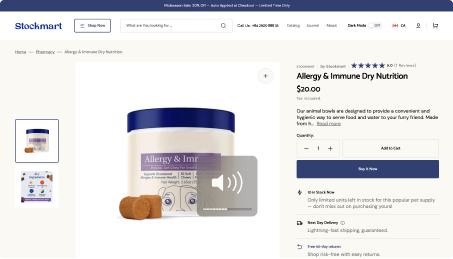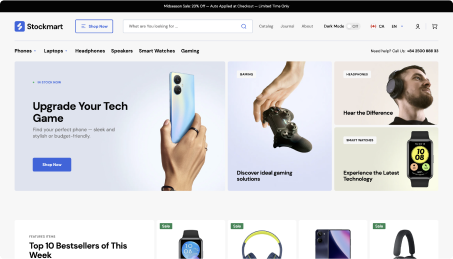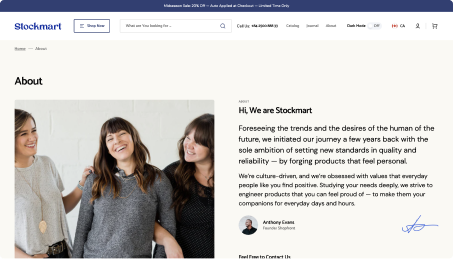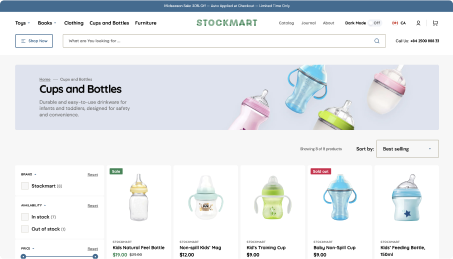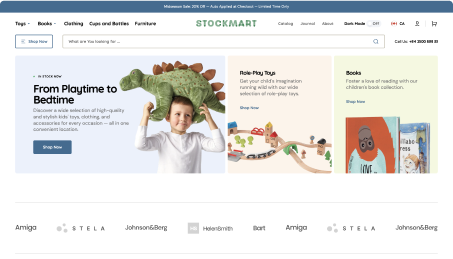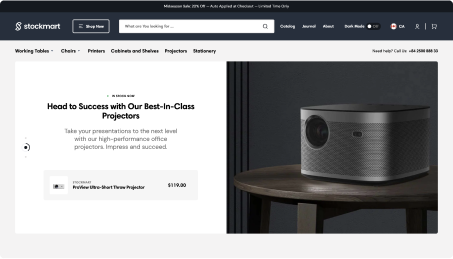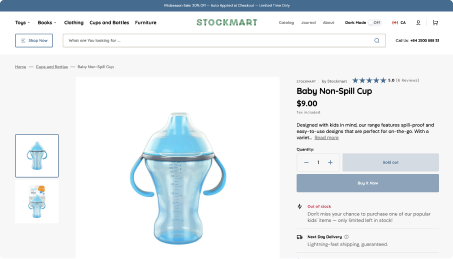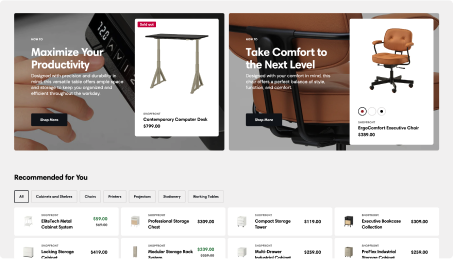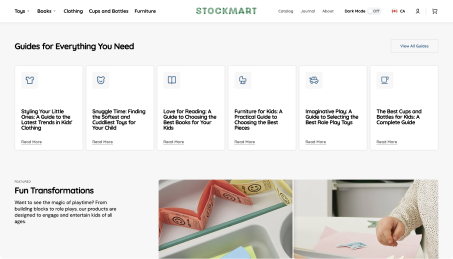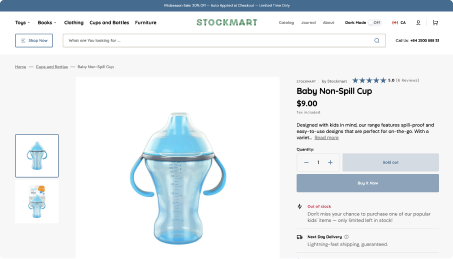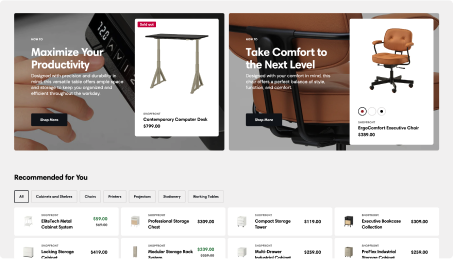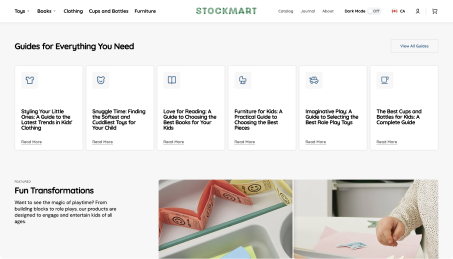 Ready to Get
Unrivaled Boost in Sales?
Start today! See how Stockmart makes your brand world-class renowned!